The #BhaveshJoshiSuperhero Journey at #SeekRed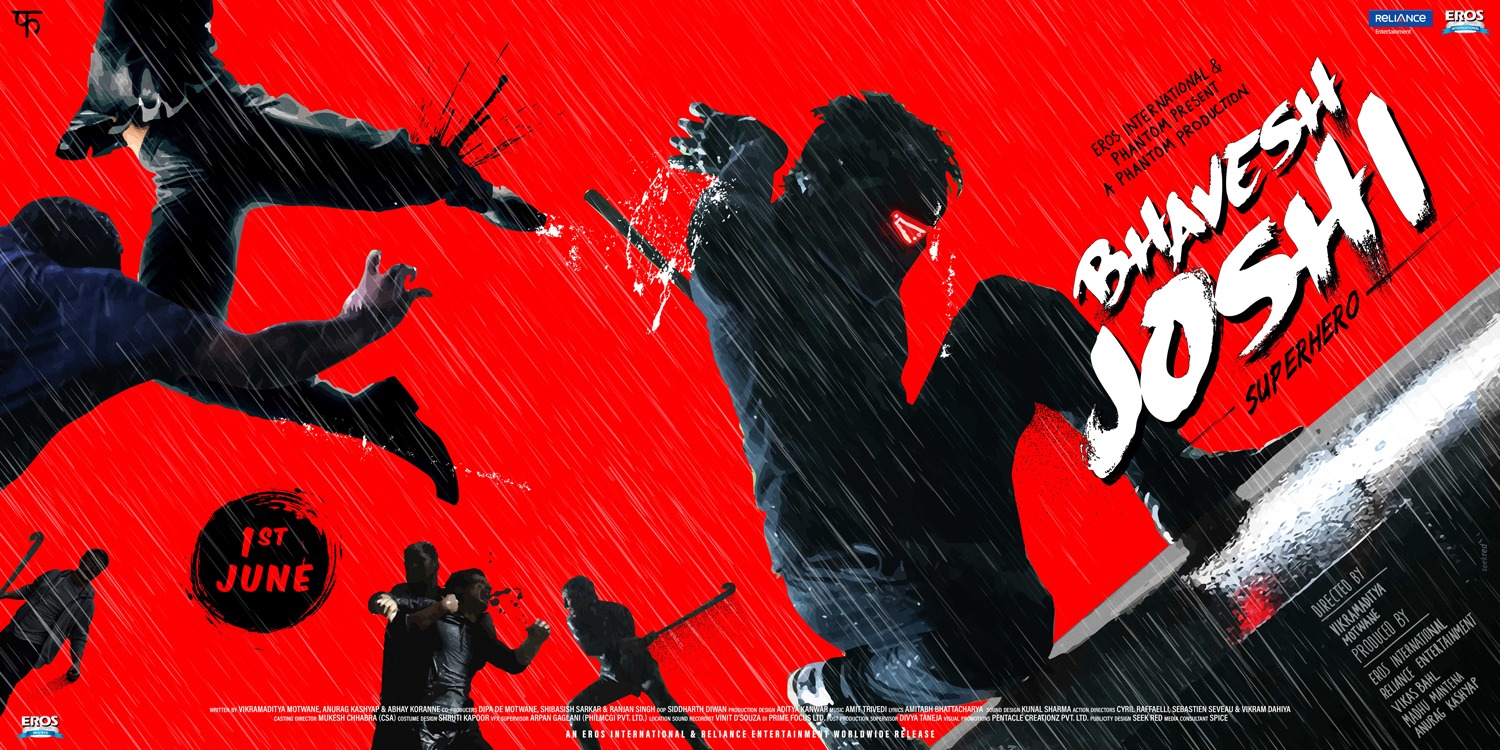 Bhavesh Joshi Superhero is an action film about a young man who wants to continue doing the right and challenge the wrong. In this journey, he discovers that he's destined to do bigger things. His journey transforms him from a common man into a Superhero.
---
We were as much delighted as we were surprised in April 2017 when we got a call from Ranjan Singh (Phantom Films) for pitching publicity designs for Vikramaditya Motwane's next film. We were Delighted because we love Phantom Films' filmography. Vikramaditya's work has a stroke which takes creativity to a new dimension in terms of handling of content and its treatment. And we were Surprised because Phantom Films had called us without us approaching them with an expression of interest :).
Couple of days later a quick meeting followed with Ranjan at Phantom Films' office. He briefed us about the film.
Though Ranjan did not specifically laid down any expectation with the designs, he did encourage us to take full liberty with what we believe the publicity campaign of a 'Superhero' film could be. The emphasis, loud and clear, was to go all out, all guns blazing, and to try a fresh – never tried before – visual approach.
A brief as such is quite open-ended. Freedom to experiment with 'all guns blazing' is daunting if not confusing :). We know from experience that though some clients commit to 'full' creative freedom in word, boundaries are built soon in spirit to stick to the 'formula' approach. A 'formula' approach is one which has been tried and tested before and therefore reduces, not necessarily eliminates, the risk associated with being novel.
We were going to be proved wrong – Phantom Film gave us full creative freedom… no condition applied!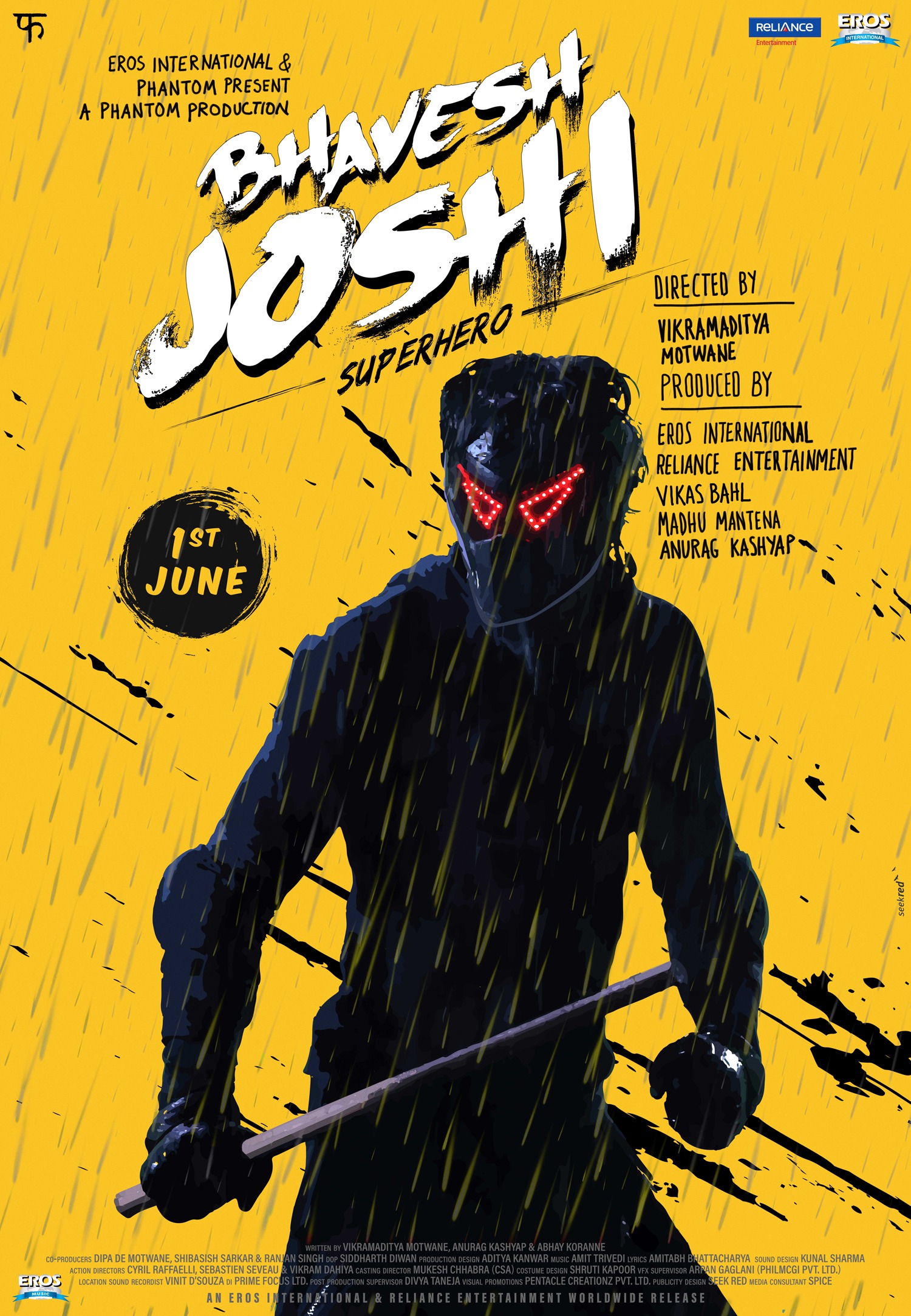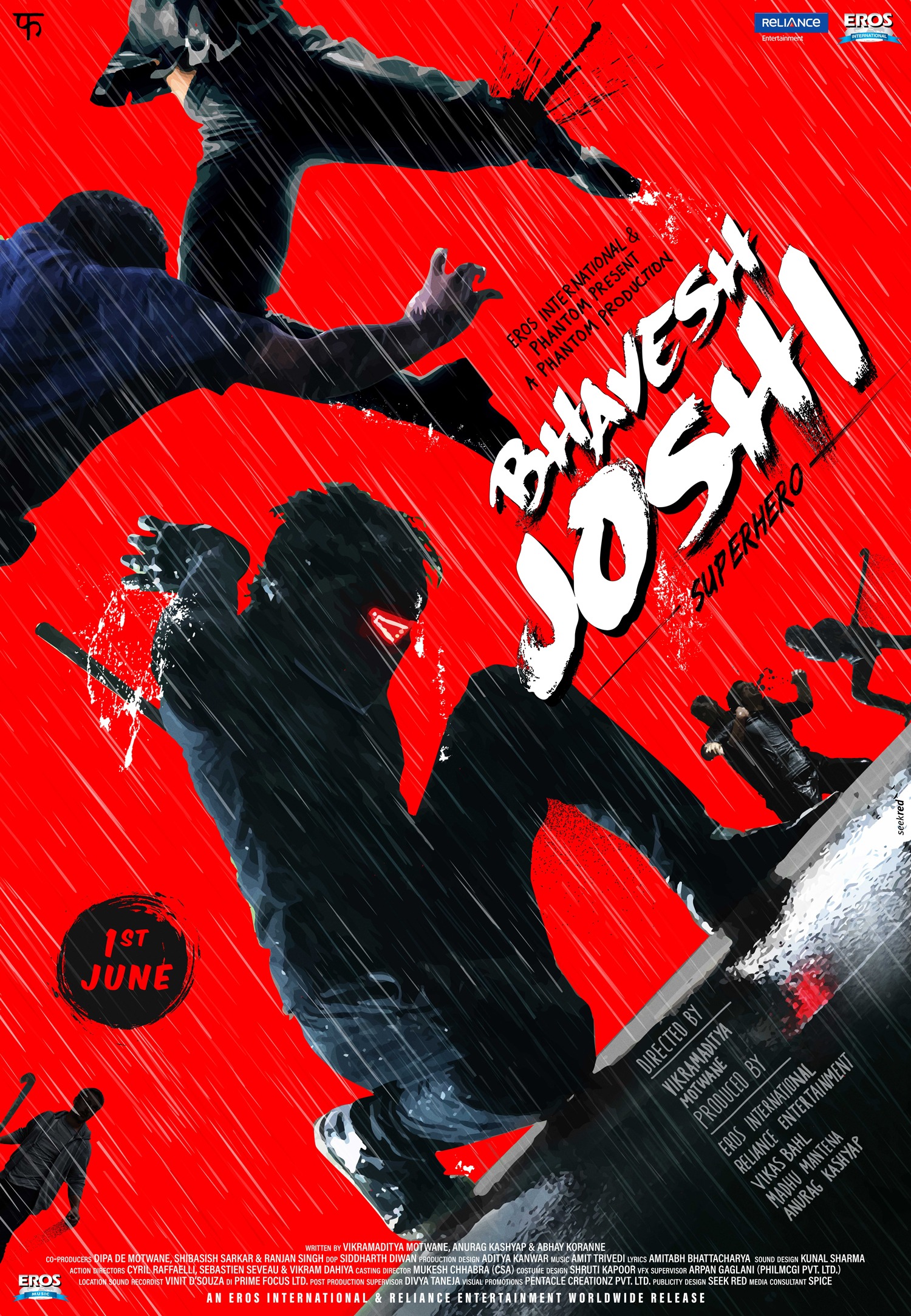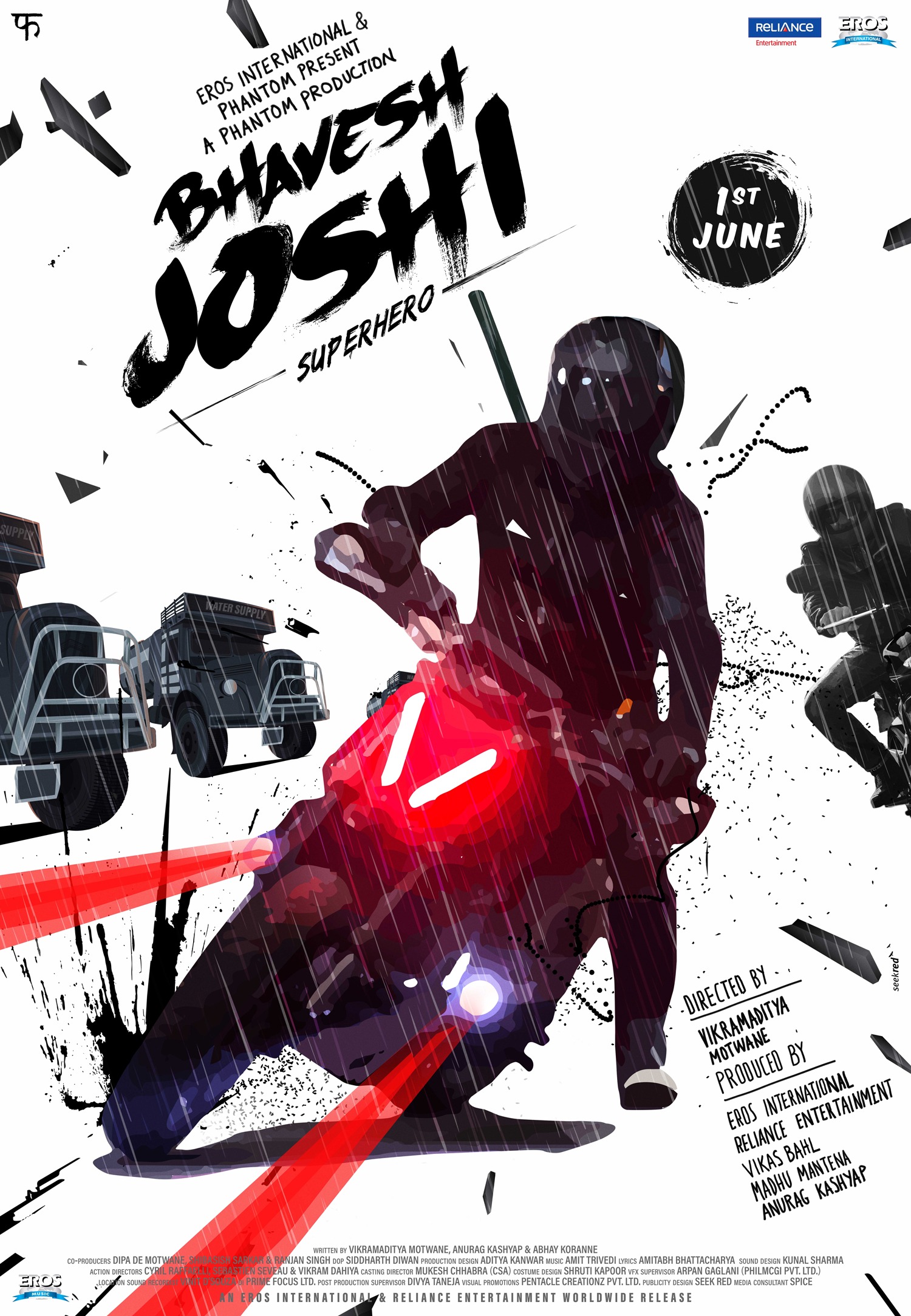 Back at our studio we rolled the dice and started work. The more we thought about the story, the clearer we got in our heads with visualization. At one point, we started to drift towards graphic style for our Superhero – a drift we began to enjoy.
For us 'Bhavesh Joshi' was a common man's alter-ego. A law abiding fair citizen who became a #Superhero by a twist of fate. We visualized the film campaign as a story of a young, bright, energetic guy next door but sans muscle-bulges, magnificent costume & cape, speedy car or complex equipment.
Our first set of designs were ready in about a week. We were back at Phantom Films' office ready for feedback. Ranjan saw the designs and remained silent. A situation as such gets tricky for us. After a while he said "I must show this to Vikramaditya right away… He is going to love this!". We knew, at that moment without being told officially, we were onboard for the project. The next meeting with Vikramaditya got us a detailed narration bundled with a copy of the script and loads of working & films stills.
The idea and designs matured over multiple iterations. Vikramaditya, Ishika and Ranjan participated proactively with quick feedback and guidance. Finally in April 2018 it was time to release the first poster.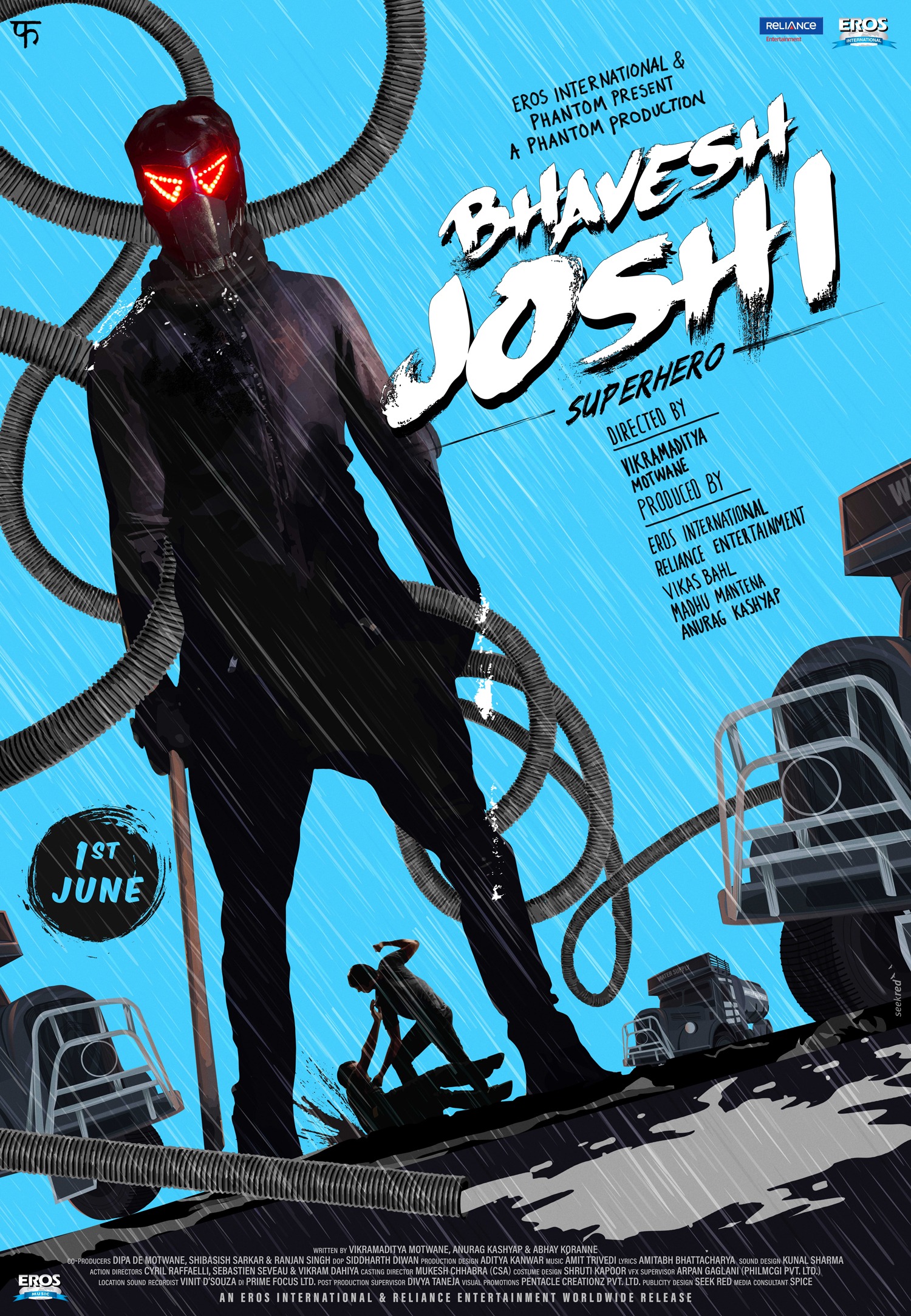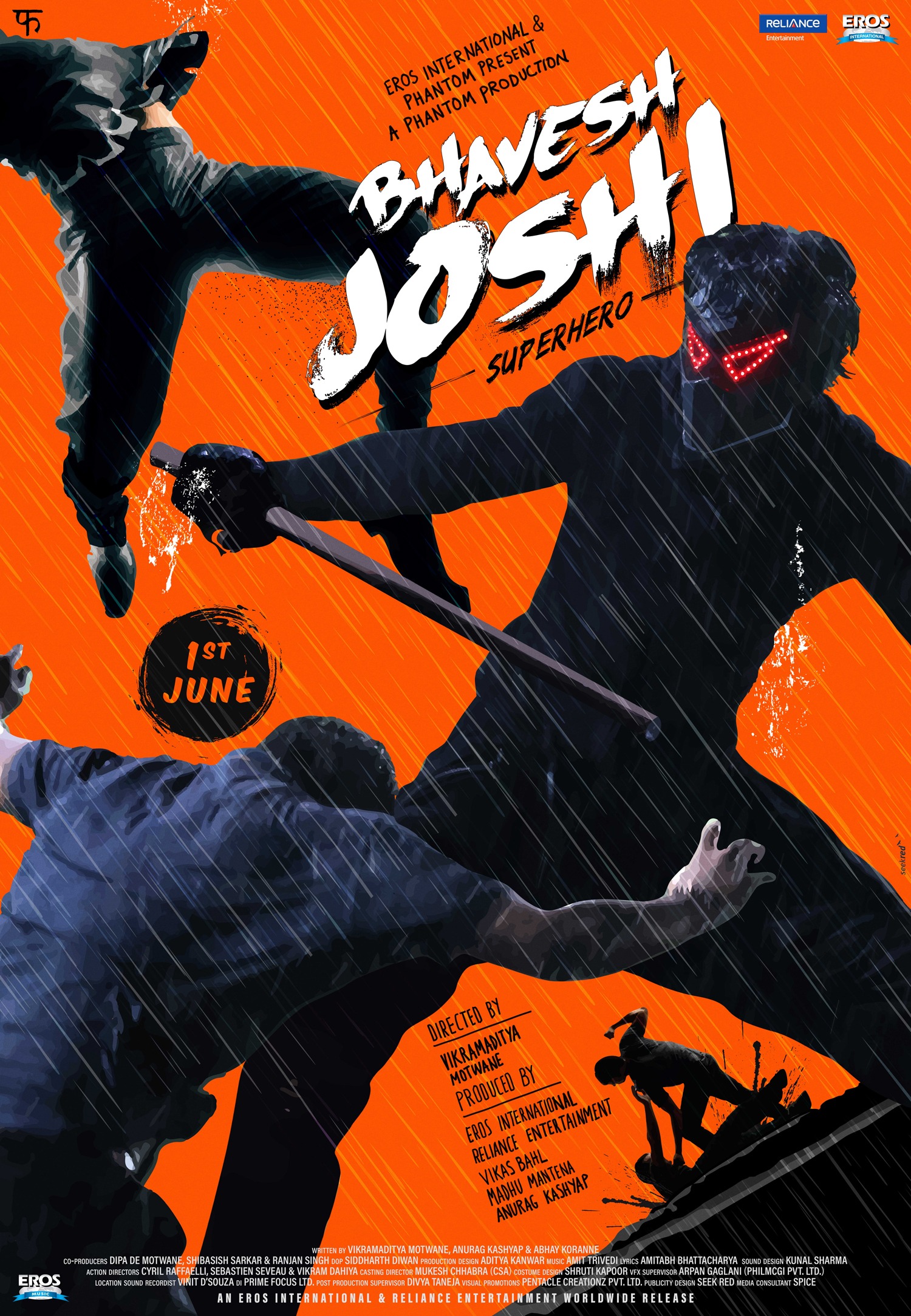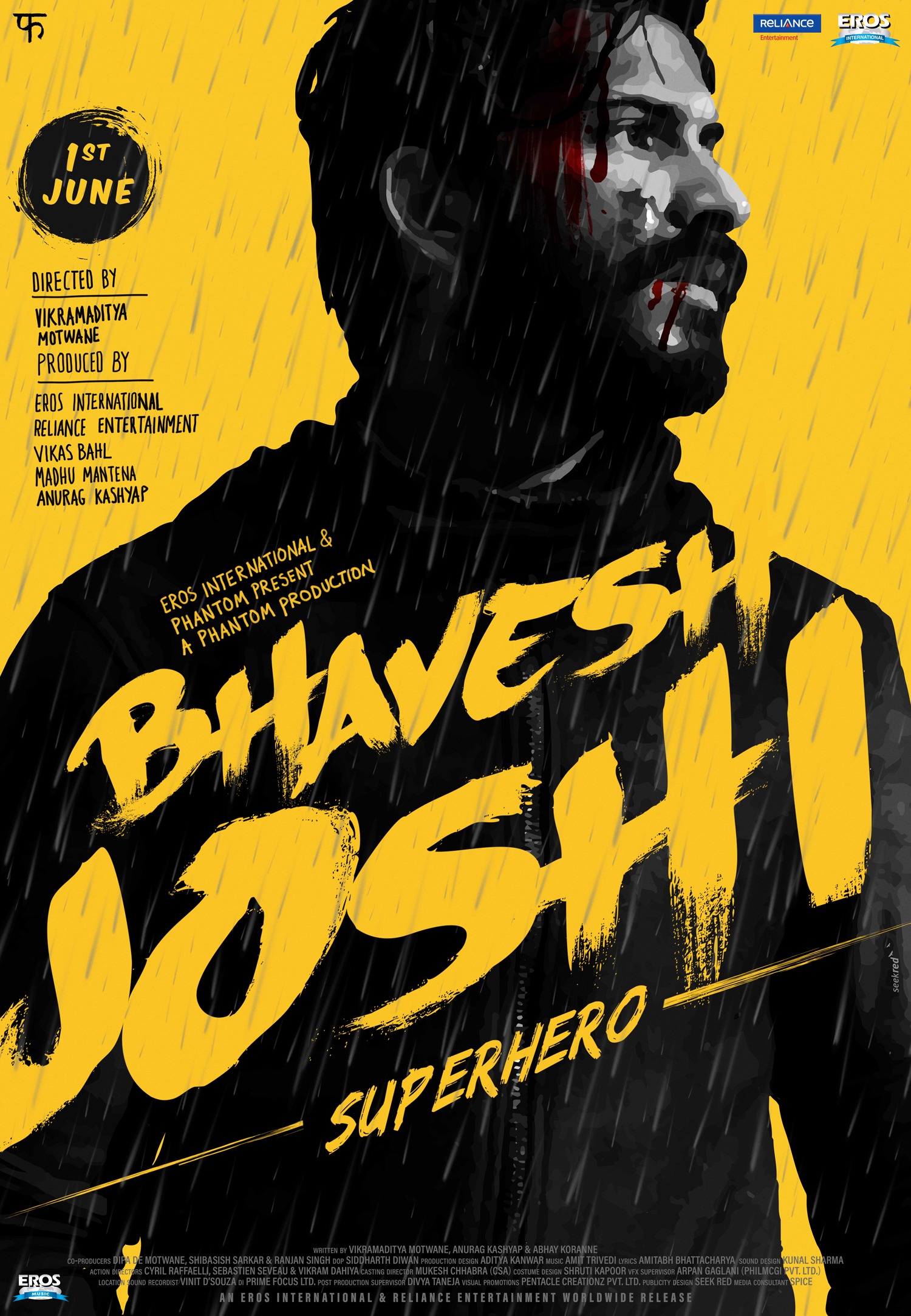 We saw #BhaveshJoshiSuperhero in theater on the big screen on June 01, 2018. We loved the film. #BhajeshJoshiSuperhero is the most realistic & terrific superhero film, in our opinion, of our times. It is a superb story, well scripted ( Vikramaditya Motwane, Anurag Kashyap, Abhay Koranne ), perfectly directed ( Vikramaditya Motwane ) and nicely edited with excellent background score ( Amit Trivedi ). The engaging action sequence (including a training action sequence) builds up with escalating background score. End title slate is cool. Casting is appropriate ( Mukesh Chhabra ). Any established actor as lead cast would have created a style bias therefore fresh faces ( Harshvardhan Kapoor , Priyanshu Painyuli, Ashish Verma , Nishikant Kamat and others ) fit the bill.
We are happy to be part of #BhaveshJoshiSuperhero… It is a well made film with talented actors & cast and brilliant technicians.